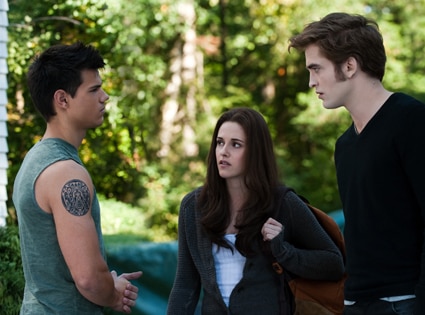 Kimberley French/Summit Entertainment
With Eclipse just about two months away, we're in the middle of the calm before the crazy storm that will be Twilight promotion round 3.
If you remember (like you could forget), Taylor Lautner was significantly pimped out by Summit, publicity-wise, so as to rally troops over to Team Jacob—since Robert Pattinson wasn't featured in New Moon very much.
If you ask us, it backfired. Lautner overload! But then again, surely some of you think we do that with Robsten, too.
So will Rob and Kristen get some quality alone time on their worldwide press tour, now that Edward is back majorly in Eclipse? And which star has some suits concerned over potential too-cool-for-school behavior?
Read on to hear Summit's promotion game plan for the third Twi flick:
Reports Buzzkill Bill, otherwise known as Deep Twi:
"Eclipse will be ménage à trois promotion, just like it was before with New Moon," dishes one of our always-knowing Twilight insiders. Guess that's good news for Team Jacob!
"It's all the same; it's built around [Rob, Kristen and Taylor] and that's exactly how it will be positioned, nothing's different."
That is, nothing will be different if our fave castmembers behave, but some execs are worried one star may be a little fussy and not stick to the promo plan.
"That is the game plan," continued our Twi insider. "At least, until one of [the cast] becomes squirrelly at the end and starts becoming difficult because she thinks the whole Twilight franchise depends on her. We do run that risk."
Say it ain't so! Our gal K.Stew getting divalicious? Surely the Summit source was somehow referring to Nikki Reed? Ugh—we just can't believe it about our darling Kristen. But hey, maybe her Coachella weekend is an indicator that she's figured out exactly how to play the media game?
Maybe this babe is way smarter than any of us give her credit for!
Read more:
http://uk.eonline.com/uberblog/the_awful_truth/b177066_kstews_difficult_eclipse_media_tour.html#ixzz0ljD2MROs